The Jewellery Show Unveils a New Website, Showcasing it as The Shining Star of The Jewellery Calendar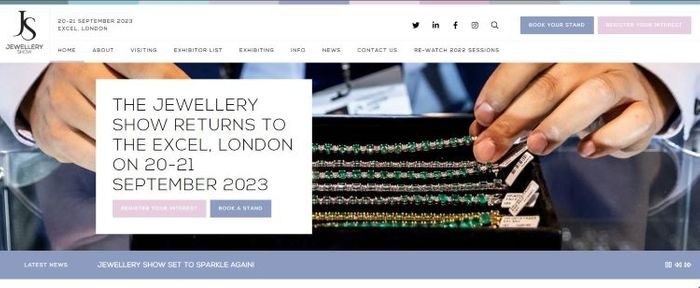 Over the past few months, the team behind the Jewellery Show have been working hard on a new website, featuring a sleek, modern design, easy to navigate and responsive on all devices.
The new website offers visitors a direct path to the different highlights of the show, allowing them to easily browse helpful information such as show features, testimonials, visiting information, exhibiting information, frequently asked questions, show updates and news, along with the new photo gallery section.
The Jewellery Show will return to London, United Kingdom on 20-21 September 2023 and host thousands of trade professional delegates, as well as over 100 national and international suppliers, exhibiting their latest fine, luxury, silver, and contemporary jewellery.
As next edition of the show is growing significantly and set to be better than ever. There is a lot to look forward.
2023 show highlights include:
The Jewellery Show Runway – a live fashion catwalk displaying the latest trends.
An unrivalled seminar programme, with some of the industry's most significant thought leaders speaking on latest trends, technology, collections, and trade best practices.
Up-and-coming designers exhibiting at the show's New Designer, exhibition section.
The Podium – which will alternate displaying fresh new designs throughout the show.
A Bullion Bar, where visitors can grab a complimentary drink and network.
Registration will open in May. Until then, prospective delegates can sign up to receive the latest information on the Jewellery Show 2023 by registering their interest here.
-ENDS-
The organisers, CloserStill Media, run over 80 market leading business exhibitions in the jewellery, learning, healthcare, technology, and veterinary sectors, with events in the UK, Europe, USA and Asia.
It is a market leading innovator. With its teams and international events, it has won multiple awards, including Best Marketer – five times in succession – Best Trade Exhibition, Best Launch Exhibition, and Sunday Times Top 100 Companies to Work For – four years in series – among others.
CloserStill Media creates valuable opportunities for suppliers to drive their business forward, through sales opportunities created and for buyers to find great new things to do the same.
For more information please contact –
Exhibitor and speaker enquiries – Lennox.addo@closerstillmedia.com
Marketing enquiries – m.ayodele@closerstillmedia.com