28 Sep 2023
The Jewellery Show sparkles again for its successful second edition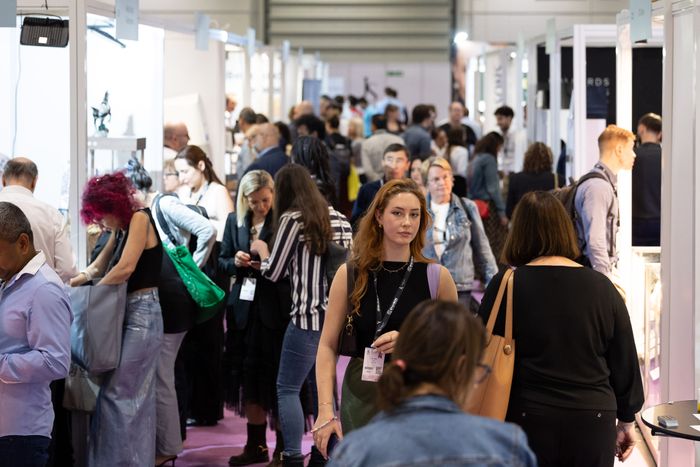 Thousands of jewellery trade professionals gathered at ExCeL London on 20-21 September 2023 to celebrate the return of the second edition of the Jewellery Show.
After a very successful inaugural show last year the Jewellery Show once again hosted various trade professionals from all areas of the jewellery industry. This included owners, directors, managers, suppliers, manufacturers, and designers. Over 100 popular trade exhibitors got the chance to showcase their brand-new designs, market leading products and innovative practices.
Theatres were full and overflowing as audiences engaged, with delegates making the most of the opportunity to listen and pose questions to a line-up of 30 leading industry speakers. Also, delegates were able to discover the latest products and materials, engage with product experts, enjoy on-stand giveaways, obtain free therapeutic treatments, and access exclusive content only available at the show.
This was a free event for all jewellery trade professionals to attend.
Day one highlights of the Jewellery Show 2023 can be viewed here: https://youtu.be/iP5Z8fndxeY
Feedback from the Jewellery Show was hugely positive with many people reporting two successful days of business and networking. Delegates and exhibitors alike noted that the show exceeded their expectations both in size and quality of visitors.
"Very interesting show as there is a lot of suppliers which is exactly what we were looking for. A lot of variety of exhibitors and a lot of selections of products to pick from. It is a lot bigger than we were expecting which is good. The Jewellery Show is important for us because of the contacts that we can acquire as well as the jewellery that is on display, seeing new designs and gaining inspiration." – Balal Murtaza & Sheraz Khan – Diamond Deluxe.
"I found the show inspiring! I think the buzz and the atmosphere is upbeat, there's a lot of people here in the industry and I think this has brought our profession together in a really good way which is welcome since there hasn't been a trade fair since IJL, so this is good. it's only in it's second year and is already an improvement from year one. It's very good. So far, really good job, day one, a great vibe and a lot of happy people"- Brian Hill – Goldsmiths.
"It's a nice show. There is a presence of a variety of exhibitors that specialise in diamonds, natural and lab grown, gemstones, traders and manufacturers. I've been to Vegas and other large shows but the UK market is important for the sector." – Erez Jacob Rivin – Jacoly Jewel.
Show organisers, CloserStill Media announced the show will return on 1 - 2 September 2024 at Olympia London and attendees can register their interest today at: https://bit.ly/466Swkt
-ENDS-
CloserStill Media specialise in global professional events within the healthcare and technology markets. The healthcare portfolio includes some of the UK's fastest growing and award-winning events, such as Best Practice, The Clinical Pharmacy Congress, The Dentistry Show, The Care Show and Acute & General Medicine.
It is a market leading innovator. With its teams and international events, it has won multiple awards, including Best Marketer – five times in succession – Best Trade Exhibition, Best Launch Exhibition, and Sunday Times Top 100 Companies to Work For – four years in series – among others.
CloserStill Media delivers unparalleled quality and relevant audiences for all its exhibitions, delivering NHS and private sector healthcare professionals from across occupational therapy, pharmacy, dentistry, primary and secondary care with more than £16m worth of free training.
For more information please contact:
Exhibition and speaker enquiries: Lennox Addo – Lennox.addo@closerstillmedia.com
Marketing enquiries: Sabrina Travers -
s.travers@closerstillmedia.com