10 May 2022
Jewellery Show and the Goldsmiths' Centre announce new partnership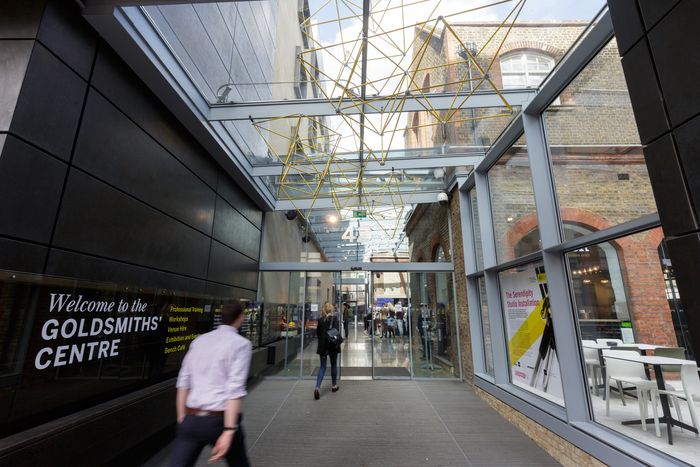 The jewellery industry will come together at Excel, London on the 5th & 6th September for the largest UK trade event of the year to be inspired, learn and trade.
This unique partnership will provide a platform for the new talent showcase in jewellery and silversmithing, 'Shine' curated by the Goldsmiths' Centre, which helps to shape the careers of up and coming talented emerging makers through a programme of skills training and showcasing opportunities. To further add to their journey, selected pieces will be chosen and then presented on the Goldsmiths' Centre's dedicated Runway scene at this year's Jewellery Show.
Speaking of the partnership Charlotte Dew, Public Programme Manager at the Goldsmiths' Centre said,
"We are very pleased to be collaborating with the Jewellery Show to create this platform for emerging designers' work to be seen by a wide range of retailers, suppliers and ambassadors from the industry. The chance for makers at this stage in their career to see their jewellery modelled is rare and adds a whole new dimension to their learning and development."
Alison Balshaw, Sales Director of Jewellery Show said,
"We are so excited to be partnering with the Goldsmiths' Centre, providing a dedicated scene on the Jewellery Shows runway is a real privilege. This will certainly be one to watch and a great way for the whole industry to see such prestigious talent showcased live in front of them – a partnership to keep your eyes on and a must see for your diaries in September ".
This collaboration brings together the Jewellery Show's expertise in the jewellery industry, with the Goldsmiths' Centre's knowledge and reputation in skills training. It will bring invaluable resources and connections for the jewellery industry overall.
The runway will be a vibrant and must-see part of the jewellery show. It will provide the audience with key seasonal trends, close ups and real take aways for retailers to utilise right away within their stores.
PUT YOUR BUSINESS AT THE HEART OF THE JEWELLERY WORLD
Located at ExCel London, exhibitors and attendees are also encouraged to reserve accommodation close to the venue, there are lots of hotels nearby from the luxury Sunborn Yacht hotel to trendy boutiques and well-known hotel chains.
The Excel venue provides great access for UK and International visitors alike with easy to reach connections by air, road and rail and boasts over 3000 car parking spaces on site. In addition the new Elizabeth line opening by June 2022 will provide easy and efficient access to the venue, reach excel London from the infamous London Jewellery hub, Hatton Garden in just 12 mins.
Run by CloserStill Media, one of Europe's fastest-growing exhibition organisers, The Jewellery Show promises to bring its award-winning trade show formula to the Jewellery sector.
For further Jewellery Show information please contact
Simone Rose – Marketing Manager
Alison Balshaw – Sales Director
Lennox Addo – Event Director
The Goldsmiths' Centre is the UK's leading charity for the professional training of goldsmiths. Since 2012, it has supported jewellers, silversmiths, and the wider precious metal industry, to improve skills and shape careers.
Founded by the Goldsmiths' Company, the Goldsmiths' Centre offers high-quality skills training and affordable workshop space, creating fair opportunities for craftspeople to develop their best work. It champions young people and exceptional talent, opening-up routes into apprenticeships, employment, further studies and the real world of business.
It looks to support change in the industry, empowering trainees, working goldsmiths and businesses to innovate and collaborate, and to build a skilled, more diverse workforce. Through its grant-giving initiatives and the sharing of industry-specific knowledge, it seeks to strengthen communal expertise and craft excellence across the UK. A creative hub for the community, the Goldsmiths' Centre's exhibitions, talks and selling events bring the industry and the public together and spark conversation about the goldsmiths' craft.
Visit www.goldsmiths-centre.org | Follow @gsmithscentre